You are here:
Home
» Security
Security

Your peace of mind when you store your goods is of the utmost importance to us. Our properties are monitored 24 hours a day by closed circuit video cameras to keep a record of activity on the properties.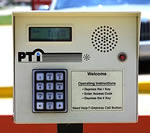 Entry to each location is controlled by a state of the art computer controlled access system that requires a pass code for entry. All of our facilities utilize six-foot steel gates that require code authorization for entry.
When you move in to one of our properties you choose a pass code that will allow entry to your storage area. Upon arriving at your storage location you must correctly enter the pass code each time you enter or exit. This code will open the security gate and the time and date of the pass code use is logged on our computerized access system.
The FREE disk lock* we offer for your use is, in our opinion, one of the best methods of securing your storage area. These locks, because of their design, are extremely difficult to cut or destroy.
The actual design of our storage facilities provides a tremendous amount of peace of mind as well. Our facilities are well lighted and our managers keep a watchful eye on the facilities. Each location is also fully fenced to offer you maximum peace of mind.

* We sell locks like the one pictured here for you to use on your unit. These locks, because of their design are extremely difficult to cut or destroy and thus very secure.
Our Features
Boxes & moving supplies
Carts & dollies
Climate & non-climate controlled units
Deliveries accepted
Drive-up access
Electronic gate access
Fenced/Walled perimeter
Ground level access
Heated
Intercom system
Interior storage units
Lighted units
Low cost insurance available
Onsite fax & photocopy
Short and long term rentals
Temperature controlled
Total account management
Video surveillance
Free security lock
No deposits/ no administration fees
Williston, FL's #1 Self Storage facility!
Call 352-528-4970
or

North Florida Mini Storage
352-528-4970
710 S.W. 6th Avn
Williston, FL 32696
See map to our location
Serving the Williston FL area since 1989!
Office Hours
Mon - Fri: 9AM - 5PM
Sat: 9AM - 1PM
Sun: Closed
Storage Unit Access Hours
:
Climate Controlled - 7AM - 8PM daily
Non-Climate Controlled - 24/7.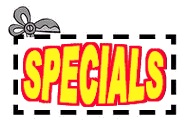 Click for Money Saving Coupons!